Sunlight Star ID Card Printer
CIM announces the introduction of the SUNLIGHT STAR ! A new, advanced, cost-effective ID card printer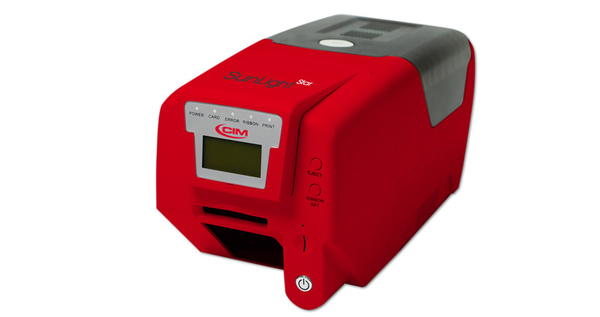 The SUNLIGHT STAR has a more modern, compact, sleek design, allowing for ease of accommodation with any desktop configuration. The printer is ideal for organizations such as financial institutions, government entities, retailers, membership organizations, and small to medium-sized businesses.
The SUNLIGHT STAR is available in two different versions: single sided and dual sided. Single sided printing gives you the ability to print cards one side at a time, ideal for low volume production needs. For larger volume requirements, the optional dual-sided printing module provides front and back printing, all in one pass. Both solutions perform high resolution edge-to-edge printing of text, images, photos, graphics and bar codes in full-color, with available options for secure smart card and magnetic stripe encoding.
The SUNLIGHT STAR can work stand-alone, connected to a single PC through a USB connection, or in-line thanks to the Ethernet connection that allows for remote sharing by many users.
This new printer is ENERGY STAR CERTIFIED for its efficiency in energy consumption.
The SUNLIGHT STAR can support any additional features such as an Ethernet connection, personalization of a magnetic stripe, contact and/or contactless technology cards and also a flip-over module to upgrade from single-sided to dual-sided printing.