Embossing, Indent and Dot Peen of Metal Tags and Plates

Embossing and Metal Marking Machines are incredibly useful tools across industries. What these machines do and how they can be of service to so many isn't exactly obvious. Our customers who purchase embossing, indent and dot peen machines vary from the United States Military to large manufacturing companies to power plants to small local businesses. The size of a company doesn't matter when it comes to owning an embossing machine. Here, we'll explain the different processes that take place in these metal marking procedures.
Metal Embossing
The lettering is raised, depending upon your specific needs. These machines use something called punch and dies, which are corresponding male and female pieces of the embossing machine that produce the indent or raised alphanumeric character (similar to a typewriter).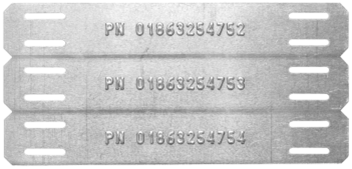 Metal Indenting
This produces indented letters and numbers in plates and tags. The process is completed by means of a print wheel. A dog license to identify a dog might be printed using this method. Any size metal can be printed using metal indenting. The characters produced appear as "sunken" into the metal tag.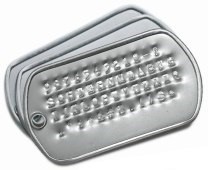 Metal Dot or Dot Peen Marking
This process uses a stylus pin to mark a metal plate using a series of dots to form all kinds of readable elements including numbers, logos and 2D Data Matrix codes.
Metal 2D Barcodes
These bar codes provide information that can hold thousands of characters. This storage of information is significantly greater than that of standard 20 character barcodes. Metal embossing machines and metal indentation machines have the capabilities to produce these types of barcodes, which is very helpful for many businesses. In addition, the barcodes can be easily scanned by an industrial barcode scanner or by simply downloading an app.
Cim-USA is North America's source for metal embossing, dot peen marking and metal indentation machines. Our company is a certified Government Service Contractor who proudly serves the US military. Contact us for all of your plate embossing needs, no matter what kind of business you're running.