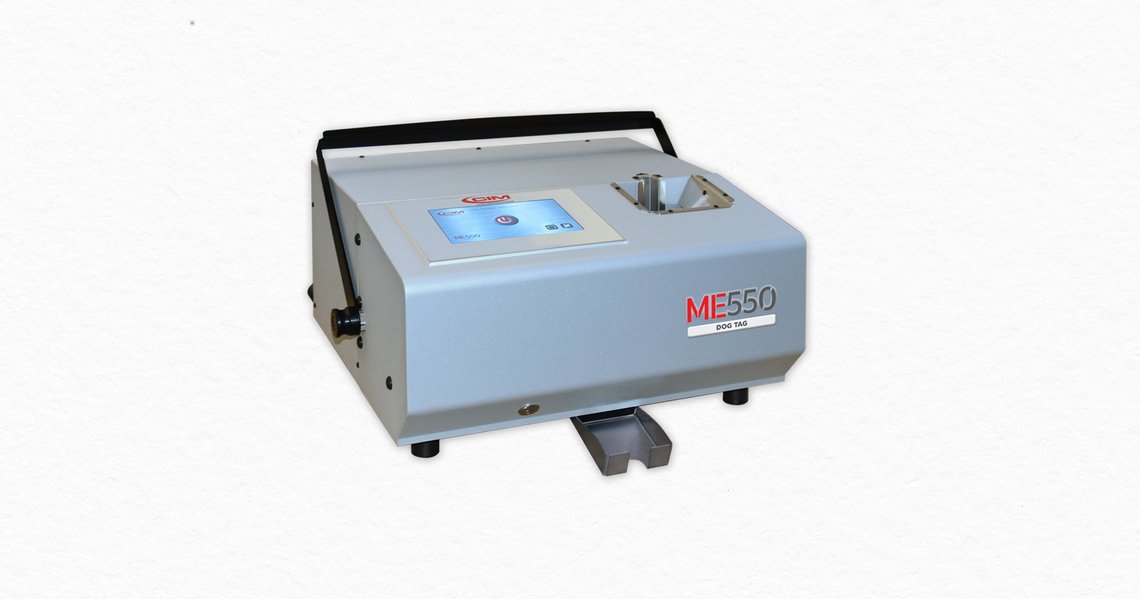 General
The ME550 DOG TAG is a portable, fully automatic solution for marking dog tags and medical alert tags and it is currently among the most reliable and easy to use machines on the market. With a 10% increase in production speed, a completely renewed design and new advanced features, the ME550 DOG TAG is an advanced heavy-duty desktop solution that can be integrated into any existing factory and office network.
7" color touchscreen display with high resolution
The ME550 DOG TAG is equipped with a built-in 7 "WVGA LCD touchscreen display with simple and easy to use icon and buttons. The user can access and manage machine functions through a multi-level menu in an easy and intuitive way.
IoT (Internet of Things) remote access and management
- Web services: The machine set-up and operations can be entirely managed remotely via the web or through the use of VNC (Virtual Networking Computing) client, using a personal computer or other devices connected to the Customer's network.
- Data transfer: Data import/export and the machine updating can be managed from any device connected to the embosser via Ethernet by using the FTP protocol (file transfer protocol).
USB (type A, type B), Ethernet and WiFi
The ME550 DOG TAG can be connected to a personal computer, to load data and start production, or to another device, such as keyboard, barcode reader or other if needed.
The ME550 DOG TAG is equipped with removable input hoppers for easy change between medical alert and dog tags. The unit is truly portable due to the light weight – only 26 kg / 57.3 lbs – and, in addition, to a sturdy case and an easy to carry built in handle (optional).
The ME550 DOG TAG has been designed as the ideal, no hassle dog tag machine for low to medium production volumes.

For additional transportation needs CIM offers CASE 500 a heavy-duty transport case, with integrated wheels and a pull-up handle which makes movement of the case easy. Download the brochure >>
Used by
Military
steel plants
manufacturers
oil refineries
power plants
utility companies
shipyards
Ideal for
dog tags
medic alert tags
product ID
work-in-progress
inventory control
facility tagging
asset ID
Information Request